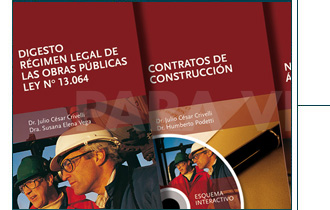 Digest. The Legal System for Public Works - Law No. 13.064

This digest encompasses not only current, standing provisions forming the core of legislation referring to Public Works, but also, regulations that today are in a state of what could be called "non-definition", given the prohibition on clauses covering cost variation, monetary updating, price indexation, etc., first imposed by the since-repealed Convertibility Law (No. 23.928), but that remain in effect under Law No. 25.561 and its successive extensions. Bearing in mind that Law No. 25.561 is an Emergency Law, at some point it should expire, and so too, it may be presumed, will the above-mentioned prohibitions, in which case, the Cost Variation System would again become operative. In that case, its provisions, or, failing that, its guiding principles would thus become applicable.

But even if this were not the case, the importance of systematizing and concentrating the regulations that make up the Cost Variation System, presided over by Law No. 12.910, should be stressed, with the aim of providing a set of guidelines for possible specific modifications and/or updates that it might be considered advisable to make later on in the Legal System for Public Works.